So, can I just say that I am kind of sad for kids these days?
First of all, trying to toy shop for kids in today's world is a nightmare since 90% of the children I know are iPad zombies and don't actually play with toys anymore.
What happened to the days where girls played with Barbies and spent hours dressing them up or arranging their homes just-so?  Or when boys built intricate race tracks to send their Hot Wheels flying?  Or hey, all the hours I spent playing with Legos and Hot Wheels, or even playing Freeze Tag outside with the neighborhood kids.
I'm afraid I'm going to sound crotchety, but forreals, back in my day, kids didn't have their faces constantly buried in electronic devices that are worth more than my car.  They read Dr. Seuss books, they watched classic cartoons, they played with actual, tangible toys, and they had fun.  I will bet any child nowadays doesn't even know what the game of M.A.S.H is.  Or that they've never seen A Year Without A Santa Claus.  Or that they've never seen a Disney movie where the characters were not voiced by celebrities.
Dude, old-tymey Christmas movies are the best.  Charlie Brown Christmas?  Year Without A Santa Claus?  Old school Rudolph?  The Frosty the Snowman from circa 1970s?  All so good!  Sure, the animation is terrible at times and the clay/stop-motion figures made some hideous faces and always seemed to have overbites, but I liked that they are so simple.  Frosty doesn't have an iPhone and Rudolph isn't live-tweeting his location.
Plus, while I did grow up with these classics, I also grew up with an infamous family favorite.  I know I've talked about it before, but in case you're new here, and/or you'd like to have nightmares tonight, let me tell you about Der Schneemann.
Somewhere, at some point in time, my grandma procured this terribly frightening German cartoon about a snowman.  It was like Frosty if Frosty was a horror film and gave you night terrors for weeks.  In it, a snowman named Whitey (which we affectionately called him) is born in a small German village and proceeds to go on a crime spree which includes abusing a dog, breaking & entering into someone's home and hiding out in their freezer, and then escaping in July, only to be eaten alive by rabbits (I'm not even kidding).
.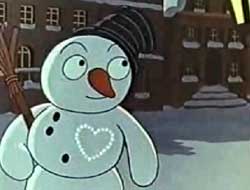 Don't kill me, schneemann!
Anyway, how is a creepy German snowman cartoon relevant?  Because #Yolo.  Wait, is that not an adequate excuse?  Let me try again.
How is a creepy German snowman cartoon relevant?  Because growing up watching it and being scared that Whitey was going to show up in my freezer made me appreciate the classic cartoons like the real Frosty and classic, traditional things about being a kid, like playing with Barbies or building Lego towns.  And I think if parents nowadays force their children to watch Whitey in all of its terrifying 13 minutes, their children would begin to appreciate the typical kid-like things and put down the iPad.  At least I'd hope.  And if nothing else, at least the kid will have night terrors and might reach in the night for his teddy bear or baby doll rather than cold, hard, shiny glass and plastic.
The end!  /end parenting rant.
Anyways, speaking of snowmen, I happen to enjoy the adorable ones — not the scary ones who get eaten by rabbits.  With Christmas around the corner, I decided to whip up some SUPER EASY and really cute Snowman Donut Pops!  Not only are they simple to make, they're a fun activity to engage the kids in — think of all the candy possibilities and the faces the kids can make with mini M&M's, chocolate chips, or Twizzlers?
And if they happen to look scarier than you'd anticipated… well, you could always just pull a German rabbit and eat that sucker.
Snowman Donut Pops
Author:
Hayley Parker, The Domestic Rebel
Turn store-bought donut holes into adorable snowman donut pops in a few easy steps!
Ingredients
1 box store-bought glazed or plain donut holes (do not use the powdered kind as the powdered sugar will look funky)
1 pkg vanilla Candiquik or white chocolate almond bark
1 small square (or about ¼ cup) milk chocolate bark
Oreo cookies
Reese's Peanut Butter Bells, unwrapped
Miniature M&M's candies
Miniature chocolate chips
Lollipop sticks
Assorted other candies, if you'd like (think Twizzlers or sour rope for scarves, sunflower seeds for pointy noses, sprinkles for buttons, etc)
Instructions
Line a rimmed baking sheet with foil and set aside. Gently twist three donut holes onto one lollipop stick to form the snowman body. Repeat with remaining donut holes. Freeze for about 30 minutes or until firm.
Meanwhile, in a large microwaveable bowl, melt the Candiquik until smooth and melted. Dip each donut pop into the white chocolate mixture, very gently twirling the lollipop stick to allow any excess chocolate to drip off. Return the donut snowman to the cookie sheet.
Working quickly, affix the miniature M&M nose (I used orange) and the miniature chocolate chip eyeballs. If you'd like any other facial expressions or adornments, affix them now.
Quickly melt the remaining milk chocolate in a small bowl. Untwist the Oreos and separate the plain sides from the frosted. Attach a Reese's PB bell to the flat, plain Oreo side using the melted milk chocolate. Then gently dip a bottom portion of the hat in the white chocolate and carefully place it onto the snowman's head.
Once the pops are set, serve!
How cute are these pops!?  I am so shocked how 
easy
they were to whip up — merely minutes!  And the decorating possibilities are endless!  These would be so fun wrapped in cellophane and handed out as gifts to your kid's classmates, or to spruce up buffet trays.  Just use your imagination (or watch some classic cartoons for some inspiration)!!
Have a fantastical day!
xo, Hayley