Happy November, friends!
Can you believe we're in the middle of November?  Last time I checked, I blinked and turned 22… in January.  Now, I'm getting ready to celebrate my 23rd birthday in 2 months, am feverishly collecting recipes for Thanksgiving (next week!!) and am finishing up decking the halls, trimming the tree, sugar-dusting the plums & what have you.
For this month's favorites list, I thought I'd compile it into a half-awesome/half-wish list to inspire those of you who may not know exactly what to include on that list of yours..or for those who are desperately seeking the perfect present for someone you love.  Bonus, I have categorized everything for you, from the makeup fiend to the baker babe and beyond.  Feel free to leave your own links — everyone can always use a last minute gift idea.  Enjoy!
For the Culinary Kings & Queens
Heirloom Cookie Sheet, $30 — one of the best pan investments.  Bakes cookies flawlessly every time without any parchment, cooking spray or liners.  No, really!  Plus, help support a family owned business!
Ninja Mega Kitchen System, $160 — a do-it-all blender, food processor, grinder and badass kitchen appliance.  Make cookie dough, effortlessly grind ice, blend scrumptious smoothies and process sauces, soups, salsas in a breeze.
TASSIMO T55 Home Brewing System, $170 — brew single cups of your favorites, like coffee and espresso, as well as cafe signatures like creamy cappuccinos and delectable mochas with TASSIMO's unique INTELLIBREW system.  Worth every penny!
Cookie Dough Scoop, $13 — one of the most used gadgets in my kitchen.  Use it to perfectly shape cookie dough, meatballs, & more.  Trust me on this and get at least two.
KitchenAid Ultra Stand Mixer, $300-350 — the single-most important appliance in my kitchen, save for my oven.  An investment, yes, but I guarantee it's more than just making cookie dough.  Shred chicken, make pasta noodles, grind meat, churn ice cream, and oh yeah, make cookie dough.
Santuko Knife, $10 — I use this daily to cut apples, slice meat, portion brownies & more.  Effortlessly glides through whatever you're cutting.  I literally have five in my cupboard!
6-Cavity Doughnut Pan, $10 — novelty pans seem like a silly purchase, but you'll be glad to have picked this up!  It makes baking donuts so simple.  Bonus: the miniature donut pan rocks, too!
Taste of Home Bake Shop Favorites, $20 — I love the variety of sweets and treats in this encyclopedia of sugar!
Momofuku Milk Bar Cookbook, $23 — after visiting Milk Bar this year, I fell in love with Christina Tosi's unique perspective on dessert.  This inventive cookbook will be appreciated by the novice home cook and the restaurant-professional.  And also: crack pie.
Chocolate Infused Olive Oil, $18 — Lucero is a local brand by way of Corning, CA .. and they manufacture a chocolate-infused olive oil that is to die for.  Bakers and chefs alike will enjoy this sumptuous, decadent oil, whether drizzled over ice cream, cooked with savory ingredients, or baked into brownies.
The Secret Lives of Baked Goods book, $20 — if you've ever wondered where red velvet cake came from, Jessie Oleson's genius research book is your kinda reading material.  Interesting, inspiring and filled with some pretty yummy recipes, too.  Also, Jessie's first book, Cake Spy, is my official bible.  If only I were kidding!
Beauty Goods
Benefit Hello Flawless, Oxygen Wow!, $36 — I am not a fan of traditional foundation (read: cake face) so I usually avoid it like the plague and Justin Bieber songs.  However, Benefit's unique formula is the epitome of perfection: soft, semi-sheer, yet smooths and perfects like none other.  AND they offer the exact shade for Casper-white gals like myself.  Bonus!!

Benefit Little Love Potions, $36 — likewise, this kit by Benefit takes all their best-selling favorites and puts them into trial sized cuties for your makeup bag.  This would be a great gift to introduce a friend to Benefit's amazing line, or for yourself to stash for when you travel.  My personal faves?  Watts-Up, an amazing highlighter; Bad-Gal Lash, the most badass mascara; and It's Potent!, an incredible cooling eye cream.
Urban Decay Vice 2 Palette, $52 — I am a huge fan of UD's eyeshadows — seamlessly blendable, gorgeous, true-to-color pigments, and such a steal deal for 20 eyeshadows which normally retail at $17 apiece.  While NAKED & NAKED2 seem to be fan faves, I love the intense, spunky colors offered in Vice 2 — and some more muted tones for those who are shy on experimenting with color.
Philosophy The Gingerbread House Set, $42 — since I was younger I've obsessed over the rich lather and intoxicating flavors of Philosophy's incredible bath gels.  This kit epitomizes the holidays with scrumptious scrubs in gingerbread, jelly bean, butter candy and peppermint bark, and comes with their awesome lip glosses too (one is sprinkle flavored!!)  Fun tip: if you have coworkers, friends or neighbors to shop for, I like picking up a couple of these kits and breaking them up to give individually.  It's an easy money-saving trick!
Paris Hilton Passport Paris Perfume, $17 — okay, before I lose you, hear me out.  I am always skeptical about celebrity perfume because typically I think celebs should stick to singing/acting/not making perfume.  But one whiff of this perfume and I was hopelessly hooked.  It's sweet without being accosting — and I like that (generally, I tend to steer verrrry clear from really sweet/musky perfumes).  And I get compliments on it wherever I go… seriously.  Guys and girls love it.
Hard Candy Nail Polishes, $4 each — rather than splurge on big brand nail polishes, I love these by Hard Candy.  They last a long time, dry relatively quickly, and come in ridiculously awesome, highly pigmented colors and styles.  Love the sprinkly, confetti nails that are super trendy now?  Hard Candy makes their own confetti polish at a fraction of the price.  Grab your mani-obsessed friend a handful to experiment with!
Kat Von D Tattoo Liner, $18 — other inky eyeliner pencils don't do it for me.  I tried Kat's pen on a whim and fell in love.  It's basically goof-proof and has the perfect width, offering a seriously sexy line every time!  Sephora also sells sets in stores which I highly recommend you get — it comes with three pens per pack in varying widths.

Macaron Soaps, $9 each — OH MY GOD, CUTENESS OVERLOAD, much?  These inventive soaps look just like petite, pastel-colored macarons and are almost good enough to eat.  But you'll have to settle soaking with them instead.  Also amazing?  Baked Soap Company's Bubblegum Sugar Scrub (MEGA WANT!!!) and their Cookies n Cream Cupcake Soap (seriously… I am not even sure this is actually soap.  It looks SO. REAL!)
Fashionable Finds
Betsey Johnson Ring Me Crossbody, $88 — I can't tell you how many compliments I get on this bag.  Surprise and delight the fashionista in your life with this unique purse!  It's surprisingly big enough to tote a wallet, some lip gloss and perhaps an e-Reader.  AND THE PHONE WORKS!!
Imperial Pink Gem Necklace, $95 — this outstanding piece will transcend seamlessly from one outfit to another for all of your holiday fetes.  Plus, it'll perk up spring dresses, be a unique piece for a summer sundress, and will rock hardcore with other gem-toned pieces!
Brunch Scarf, $30 — this is definitely a scarf that will keep you warm and cozy.  Who doesn't want to wear bacon around their neck??
My Sweet Art Dress, $90 — for the beautiful baker, this stunningly cute dress is sure to impress!
Scented Strawberry Donut Necklace, $10 — a donut that looks and smells good enough to eat, but is actually calorie-free?  Sign me up!
Urban Renewal Tulle Slip Dress, $80 — the perfect ballerina dress to be edged out with a black moto jacket and boots.  I am in looooooove.
Cake Tee, $26 — I love the quirky, girlie, original designs by I'm Your Present on Etsy.  This cake top is so cute and I love the rhinestone applique that makes it extra special.
Miscellaneous Treats
Cupcake Tea Kettle, $47 — an adorable novelty kettle for the sweetest cupcake in your life!  Why boil water boringly when you could spruce it up with sprinkles?!
The Treat Life Container, $50 — I'm personally requesting this bad boy on my very own Christmas list, 1) because of my gumball/gumball machine obsession, but 2) because it's FREAKING CUTE.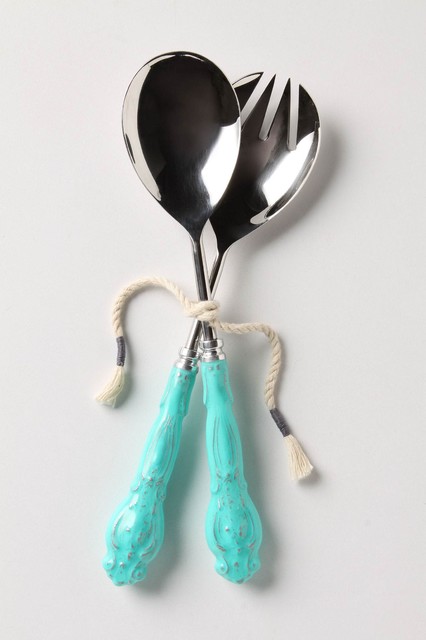 Chipper & Sprite Serving Set, $40 — I love the vintage, kitschy look of these beautiful servers.  The perfect hostess gift!  The worst part is choosing mint, or white?
Nevermore Raven Bookends, $28 — these unique bookends will satisfy the literary nerd in you.  Quoth the raven, "awesome bookends."  Wait…
Head of the Class Container, $30 — any science fans will geek over this awesome phrenology head container!  Store pink bubblegums to offer guests some bubblicious brains, or I don't know, fill it with whatever you want.
Let's Pretend This Never Happened book, $20 — one of the funniest books I have ever, EVER read.  I highly recommend Jenny's inspiring, hilarious take on life, including her random, squirm-worthy stories of her childhood.
GummyGoods Nightlight, $30 — a nightlight slash gummy bear.  Whoever invented this is simply genius.  I want one in every color!!
Mahogany Teakwood Candle, $20 — my favorite candle of all time.  Burns consistently, evenly, and for a loooooong time.  Incredible fragrance — imagine a sexy lumberjack who looks like Ryan Gosling just stepped out of the shower and smells like heaven.  And he just made you a pie.  My god.
I Heart Guts Plush, $20 — these adorable, anatomically correct (at least, I HOPE my gall bladder has that cute of a face) plush toys are fun for science fans, children, or just about anyone who enjoys adorable things.  While all are maddeningly adorbz, I'm partial to the Flossin' Ain't Just For Gangstas Tooth Plush.  I mean, his face.  I die.
Well, that's it for now — I hope you enjoyed my list!  Pleassseee feel free to leave links, and happy shopping!
xo, Hayley