Haaaaiiii guuuuuyyyyyyysss.
So, we're friends, right?  And as friends, I feel like we need to go shopping and stuff because that's what friends do, right?  Or so I think — I do not seem to have flesh friends but rather a bunch of internet friends.  You guys are much cooler anyway.
Okay, so it's July and I have some things I've been kinda sorta obsessing over.  And as your friend, I feel morally obligated to give you my secrets.  Feel free to send me your secrets, you know, so it's not all one-sided and you have leverage on me.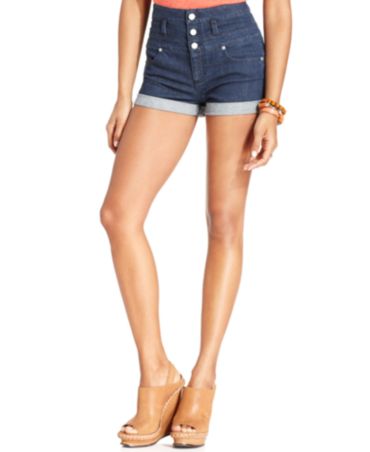 Okay, so my mom totally hates me for this, but I am OBSESSED with high-waisted shorts.  Now, before you regress into scary memories of bell bottoms, platforms and disco, please hear me out.  When worn right, high-waisted jeans are SO insanely flattering.  They're basically a product of wizardry.  Allow me to explain: I have both long legs AND a long torso which makes shopping for clothing unfortunate at times.  High-waisted shorts, in their magical way, make my legs look longer and leaner while cutting out some of that long torso stuff.  And, as if I really need to sell you on them more: they hide your muffin top.  Done & done.  This pair from Kohl's is super comfy!  Living in them.
You could book yourself a one-way ticket to somewhere tropical with persimmon trees or whatever persimmons grow on, and imagine yourself wandering throughout the lush, green, fragrant gardens, or you could save your money and buy this candle instead.  Duuude. It's constantly burning in my house.  In other words, you could probably come to my house instead of a persimmon garden, but bear in mind that my house has a lot more dog hair than a persimmon garden would.
As if your sweatiness needs reminding, it's summertime.  Ick.  And the sun is kinda sorta rude to my milky complexion if I don't smother myself daily in sunscreen.  I particularly like this kind by Aveeno because it isn't greasy or leave a weird residue, which is good, because my face doesn't look that flattering when it's as reflective as a mirror.  Also, it doesn't have smells, which is good because it would interfere with my regular bathing in perfume.  And hello, it's cheap.  And won't make you look like a lobster and/or shriveled prune.  Bonus. It's no shocker I am in luuuurrrve with Betsey, or anything sailory, or covered in bows, or bling, or polka dots… so basically this wallet was meant exclusively for me.  And maybe you, if you're into that kinda stuff, too.  Plus, conveniently my wallet is kinda janky, so I could use a new one to house all my $$$.  JK.
Believe you me, I am an Urban Decay fanatic.  Super intense colors, cruelty-free and amazing results.  However, as of late my budget is waifish at best, so when I found this knockoff palette by Hard Candy, I snatched it up.  The colors are comparable to UD in intensity and staying power, and have all the beautiful neutrals with lots of shimmer and dimension.  And uh, $6.  I'm totally going back for the green, smokey and blue palettes, too.
Oh, and while you're buying out Hard Candy's eye palettes (and primers and lip glosses and blushes and everything else — I swear I'm not being promoted to profess my love for them), you should tooootally get your paws on this nail polish.  Called Gummy Green, it looks good enough to eat.  But alas, resembles nothing gummy-like in flavor
it has those cool black flecks of glitter in it, lending a sprinkly touch to your fingertips.  I also picked up a couple other shades because hello, I want my fingers to look like ice cream cones.  Who doesn't?
I'm still drinking my coffee every morning (however, that remains as 'adult-y' as I get), and this is my new favorite creamer.  It's SO delicious!  It tastes like a liquid white chocolate macadamia cookie.. but with minimal calories compared to the real deal.  I *may* or may not have spiked some milkshakes with it, too.  LOVE.
So for those who follow on Instagram, I started a new, full-time job this week.. my first "adulty" job processing Medi-Cal eligibility forms for my county.  I'm only in the second week of training, but I'm liking it a lot so far.. probably because watching Jerry Springer actually helps me with my learning [believe it or not].  This picture was taken of me on my first day, holding Muchacha, my worry doll. Do you have worry dolls?  They're part of a Guatemalan tradition where you whisper your worries to your worry doll and the worry doll takes care of them.  I have 10 under my pillow that I whisper to each night, and I recently picked up Muchacha in Austin, TX at a really cool turquoise shop called The Turquoise Door.  She accompanied me to my first week of work just in case I got a little frazzled and Muchacha was hungry enough to eat my anxiety.  Want your own little worry-eater?  World Market sells them HERE!
Well, that does it for this July Favorites & Randoms.  What are your favorite things right now?! Links welcome!!
Have a fantastic Friday!
xo, Hayley